About McIntosh Homes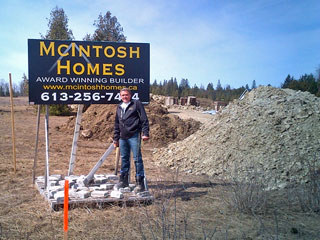 McIntosh Homes Owner, Doug McIntosh, started his career as a Custom Home Builder in 1993.
Custom Homes have always been Doug's passion. McIntosh Homes is a new company established in 2014 with over 20 years of homebuilding experience and will continue to build homes on time, on budget and with superior quality as Doug has done in the past.
As Doug is from the Almonte Area it is common for him to run into customers on a daily basis as he is out doing his shopping and our customer's greet him with a smile and usually a handshake telling him how much they are enjoying their new home.
Our Tradesmen are also local and take so much pride in their work. They treat your home like it is their home.
Customer Service, Superior Quality and Community Pride are 3 things that are top priority within McIntosh home.
We look forward to taking your dream and making it your home.